Set Explo 1, without connector, IP69 (-150m) with battery 3 cells
Set Explo 1, without connector, IP69 (-150m) with battery 3 cells
Explo 1 lamp connected directly to the 3-cell battery box. Kit ready to be mounted on a helmet (without connector). Supplied with a 10.9V 3.5Ah battery and mounting plates.
This kit includes:
An Explo 1 lamp. Ref:AS 18.18.002_00
A 3 cell battery box. Ref: AS 17.48.001_00
An Enix 10.9V 3.5Ah Li-ion battery. Ref: AS 16.45.004_01
A Mascott 3S charger. Ref: AS 17.39.001_00
-Helmet lamp fixing without drilling Reference: AS 18.51.002_0
-Fixing battery box on helmet without drilling Reference: AS 18.51.004_0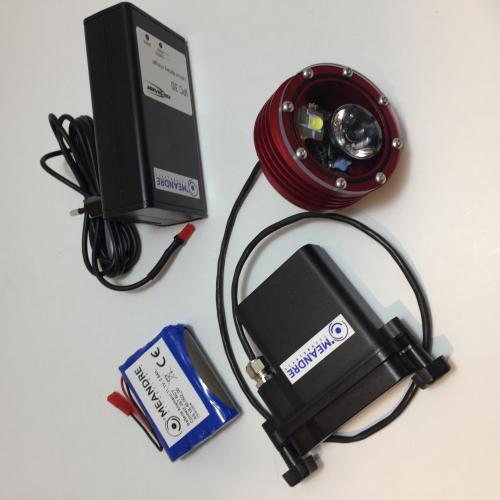 Fixing plate without drilling :
Unique system for attaching your Méandre Technologie headlamp to a Petzl Vertex series helmet.
Very easy to install, one screw is used to adjust the clamping stroke and 2 others allow the blocking of the assembly.
This system makes it possible to get closer to the PPE nomre by avoiding the drilling of the helmet.
Other:
Gland to Gland Wire Length: 50cm +/-2 The lamp is connected directly to the battery box. (no connector)
Total weight: (battery, battery box, lamp) 450g.
For more information, see our technical sheet page
Availability: In stock, next-day shipping
Inc. ecotax : 0,08€
738,00€ inc. tax - 615,00€ excl. tax
Availability: In stock, next-day shipping
Inc. ecotax : 0,08€
738,00€ inc. tax - 615,00€ excl. tax